Ahead of the school return season in mid-year, Apple provides good news, by cutting the prices of 2019 MacBook Air laptops by 100 US dollars. The price tag is now 1,099 US dollars.
But it turns out there is a "price" that must be paid for it. A French site called the Consomac tests the speed of the MacBook Air 2019 SSD with the Blackmagic Disk Speed ​​Test software.
As a result, the reading performance of the MacBook Air 2019 SSD turned out to be 35 percent slower compared to the 2018 MacBook Air SSD. More precisely the 256 GB MacBook Air 2019 SSD recorded the read and write speeds of 1.3 GBps and 1 GBps respectively.
Meanwhile, MacBook Air 2019 with the same configuration records the read speed of 2 GBps and write speed of 0.9 GBps. In other words, the MacBook Air 2019 SSD is slightly tighter than the MacBook Air 2018, in matters of write speed, but far behind is the matter of read speed.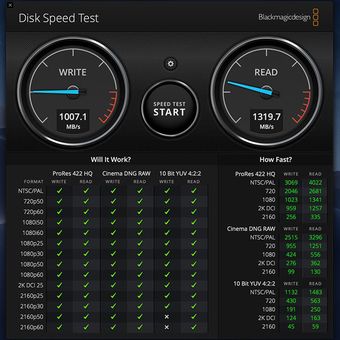 Test results conducted by the Consomac site on the MacBook Air 2019 256 GB SSD using Blackmagic Disk Speed ​​Test (consomac.fr)
A variant with a 128 GB SSD from the MacBook Air 2019 has a much slower write performance, around 0.5 GBps, but the same decline also occurs in the 128 GB version of MacBook Air 2018.
Apple may compromise with the SSD components used on the MacBook Air 2019, in order to reduce its price by 100 US dollars.
A decrease in read speed of SSD by 35 percent does not mean that the overall system performance will go down by that number. Because, the reading speed of 1.3 GBps is actually already quite fast.
In addition to the MacBook Air, at the same time, Apple helped update the 13-inch MacBook Pro, which is now equipped with Touch Bar and is also priced cheaper. Then there are two lines of laptops that were discontinued, namely the 12-inch MacBook and the old version of MacBook Air 13.